ROUND TABLE DEDICATED TO THE ISSUES OF MATERNAL AND CHILD HEALTH WITH THE PARTICIPATION OF SCIENTISTS FROM THE REPUBLIC OF BELARUS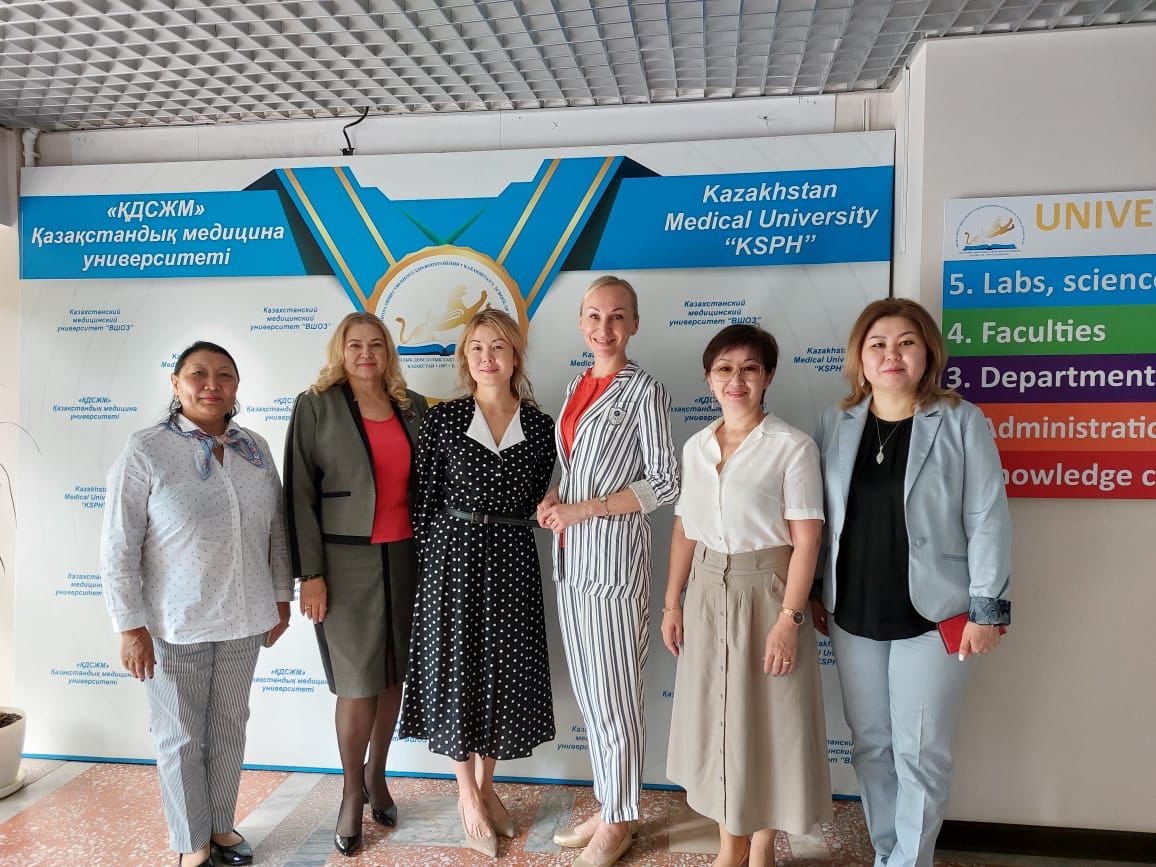 On May 21, 2022, a round table on the topic "22 years without maternal mortality: exchange of experience" was held on the basis of the KMU "KSPH" with representatives of the Grodno State Medical University (Republic of Belarus), where the clinical base is the Grodno Clinical Perinatal Center of the 3rd level, which has the status of "Child-friendly Health Organization" WHO, Children's United Nations Foundation (UNICEF).
In her welcoming speech, the moderator of the event, Turdalieva Botagoz Saitovna, MD, Professor, noted that the Round Table was held in order to update and improve knowledge in the field of maternal and child health, reduce perinatal and maternal complications and mortality in the country.
Invited speaker – Lyudmila Vitoldovna Hutsikava, MD, Professor, obstetrician-gynecologist of the highest category, Head of the Department of Obstetrics and Gynecology of the Educational Institution Grodno State Medical University, Republic of Belarus, in the period from May 16 to May 21 this year held a series of seminars among medical workers in Karaganda on the topic "Obstetrics and gynecology: anesthesia and intensive care in obstetrics and gynecology".
In her report, Lyudmila Vitoldovna shared her educational and scientific experience in conducting work, a common vision for the development of obstetrics and gynecology, the perinatal service of the Republic of Belarus. The speaker noted that the perinatal mortality rates of their country are one of the best indicators in Europe.
The staff and students of the University took an active part in the Round Table, as well as the acting deputy head of the Health Department of Almaty – Imangalieva N.M. and the head of the Department of Maternal and Child Health of the Health Department of Almaty – Kalibekova G.Z. The report and discussion aroused great interest, those present at the Round Table had the opportunity to ask questions about educational, scientific the process and practical activities, to which we received exhaustive answers from Professor Hutsikova L.V.
Recall that the Kazakhstan Medical University "KSPH" pays special attention to the professional development of medical workers. One of the tasks of CMU "HSE" is to improve the skills of medical workers of various specialties under partnership programs abroad.
At the end of the Round Table, the parties decided to continue the partnership on conducting professional development cycles in the Republic of Kazakhstan with the invitation of visiting professors and with a trip to the Republic of Belarus.
For further training, please contact us by phone.: 8 727 337 69 05, 8 727 337 80 29 ( vn. 148), 8 771 780 76 76.